Beginner's Guide to Bhandardara Camping
Bhandardara is a stunning hill station calmly nested in the Sahyadri Range of Maharashtra. This untouched destination offers wonderful picture perfect landscapes covering with lush green blankets, faultless hills and of course, plentiful stunning waterfalls. In addition there is a stunning Arthur Lake, Kalsubai trek and many camping spots; Bhandardara is steadily becoming a favorite leave station for city-dwellers from Mumbai and Pune, seeking a break in the arms of nature.
Overview of Bhandardara Camping
If we imagine a place with landscape with comfy tents inclined on the edge of a shimmery blue lake and the night skies filled with millions of stars, then Bhandardara is here to fulfill this dream. As the Sun sets and rises with extreme charm, the skies are painted various shades of blue, purple and orange. The Arthur Lake is that's why one of the most popular attractions of the hill station.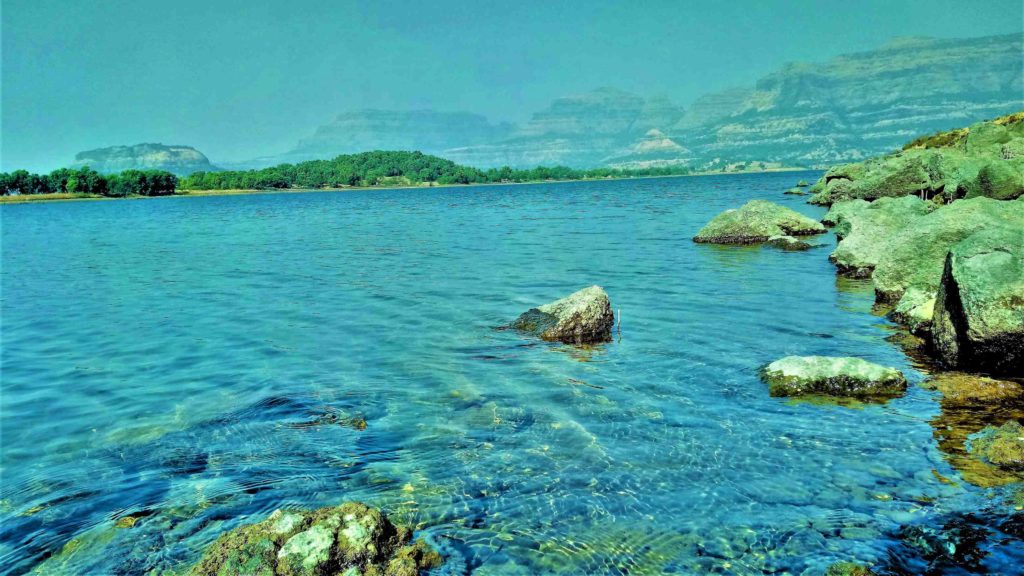 Before the rainy season is famous for the spotting of almost like millions of fireflies, the rainy season in addition to winters offer trekking and camping exotic opportunities and also Bhandardara has a  huge amount of crystal clear streams, waterfalls, fishing,  and boating make it an attraction point for the tourists for almost all year round.
Bhandardara camping gifts an unbelievable number of options, for travelers of various kinds, to seek their peace of nature and revitalization. Due to its closeness to Mumbai and rapidly increasing tourist communications makes it a must visit weekend getaway spot.
How to Reach Bhandardara
The most prescribed way to reach Bhandardara is by road using a private vehicle. Using public transports may ruin the joyful journey. Restrooms and restaurants dotting the highways make the journey enjoyable. Bhandardara is only about 160-190 km away from the main city and hence the journey might take approx 3.5 to 4 hours by road.
The NH 3 Highway connects Mumbai to the city. The most preferred route to reach is Eastern Express Highway> Mulund> Thane> Kalyan> Nashik Highway> Kasara> Igatpuri> Ghoti Toll post [turn right]> Pimpalgaon> Bhandardara Dam.
The campsites around Arthur Lake can be a bit difficult to find, if you rely just on Google maps. It is better to seek help from locals or call the travel company for assistance in locating the site. There is typically more than enough parking spaces available at a short distance from campsites, though it is mandatory to take a dirt road to get there.
By Public Transport
Bhandardara is located at 60 kms from Kasara Station and 45 km from Igatpuri Station. One can either take trains such as the Nandigram Express train, Kolkata Mail, Howrah Mail from CST to Igatpuri or take may any Local train to Kasara. There are plenty of buses also but their regularity is quite low.
If people are visiting in groups or traveling with friends then they can also book private vehicles or jeep to reach Bhandardara at a cost of Rs 1000-1200 from Kasara Station. This is not only more suitable and comfy but also value for money as the total amount can be split.

If incase people are travelling alone or with a friend, then they can take a share jeep up to Varangushi village for about Rs 140 and hop onto a jeep to Shendi for just Rs.30. Bhandardara is about 4 km away from there and can be reached through another jeep for a rate of 20 Rs or hiring a private jeep for rates ranging from Rs 500.
Accommodation
There are many travel agencies as well as individuals who provide tents, camping and transport facilities along with food, near the lake. The prices stimulating by travel Agencies providing camping amenities such as tents, bonfire and food range from 1 to 1.5k per person.
Best Time to Visit
The months of July to September are best to visit the waterfalls and meadows around the hills are most beautiful during this time. The months of October to February are best for camping and trekking.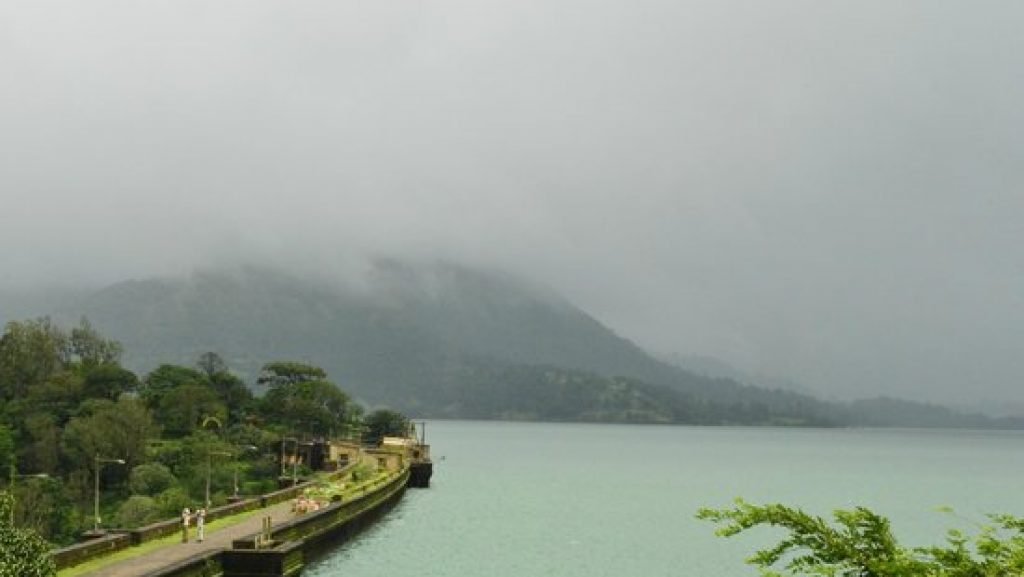 Summer time is generally hot and dry and hence not suitable for a visit. However, one can get great off season rates at the hotels and the lake itself is still amazingly beautiful with pleasant evenings.
Places to Visit in Bhandardara
1. Arthur Lake
The Arthur Lake is formed by the Pravara River and holds religious sentiments as Agastya Rishi meditated at this place for years. This lake is around 34 km long and also acts as a reservoir for the nearby Wilson Dam. The peaceful lake and the plain blue skies look stunning pretty much all over the day; as the sun rises and sets , the stars come out to light up the night sky.
Plunging tents, bonfire sessions, star-gazing and going on enjoying the nature trails in the nearer thick forests are feelings which make this location a must-visit spot in Bhandardara, which is situated at a distance of roughly 2 km from the Bhandardara Village. It will be convenient to reach there either by private vehicle or shared jeeps from Kasara and Igatpuri Station if people are travelling by train.
2. Ratangad Fort
This ancient fort overlooks the Sahyadri ranges. There is also a natural rock crack at the peak which is named by the local people as the 'Eye of the Needle' or 'Nedhe' considered as the 'Jewels of the Fort', it is a must to see place to visit for every outdoor enthusiast. It is located at a distance of almost 12 km from Bhandardara.
3. The Amruteshwar Temple
The Amruteshwar temple is the temple of Lord Shiva which is about 1000 years old. Below the Shiv Lingam (the statue of Lord Shiva), there is even a naturally formed hot spring. According to the age old believes, this place was built during the Mahabharata by the Pandavas.
During rainy seasons, water gets filled even in the inner chamber of the holy place. This exciting feature make the visitors feel quite mysterious to the temple and make it quite unique. The Amruteshwar temple is situated in Ratanwadi, this temple is at the bottom of the Ratandgad fort.
4. Randha Falls
Water falling from a massive height of 170ft, it transforms into the glittering Randha Waterfall and is also the 3rd largest waterfall in India. There is a way for people to walk around and visit the waterfall. Many travelers take a bath into the pond created by the waterfall. The chilly breeze and fertile surroundings make the spot an ideal getaway for travelers seeking to have a fun weekend amidst nature.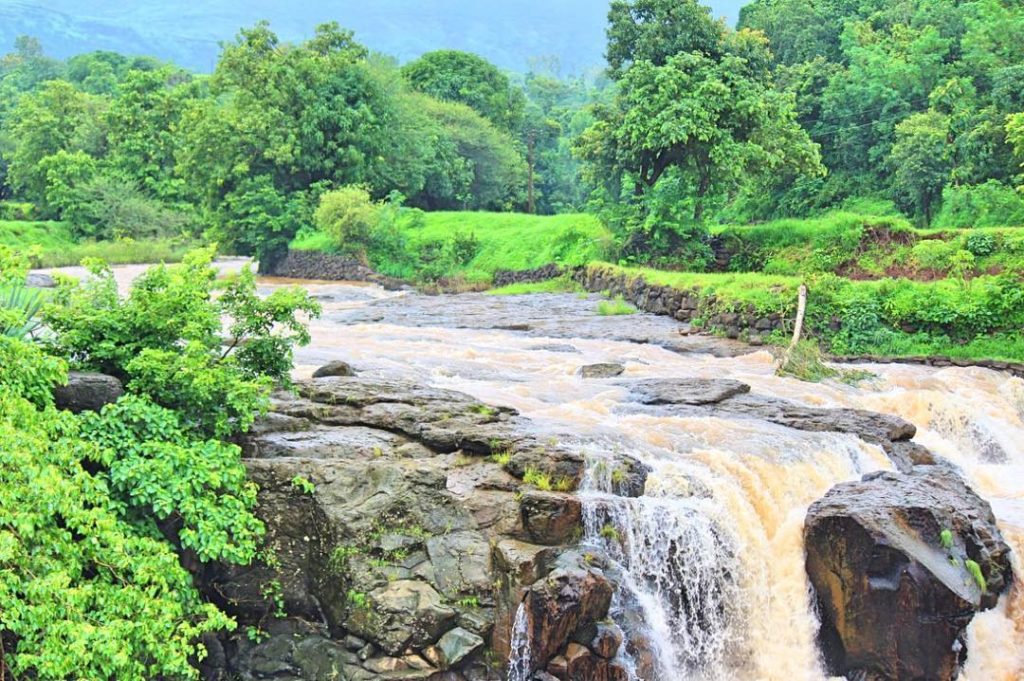 This beautiful fall is situated around 10 kms away from Bhandardara; the Pravara River is a major source of hydroelectricity in the area of Bhandardara. You can reach there by private vehicle or second best option is to share jeeps from Kasara Station (62 km away) which drops directly at the Randha falls for a rate of Rs 120 per head.
Reverse Waterfall (Half- Trek) and Sandhan Valley Full Trek
During the rainy season, a weird phenomenon occurs in the Sandhan Valley, i.e. the occurrence of a reverse waterfall due to the high winds pressure and rainfall. Sandhan Valley is also called the Grand Canyon of Maharashtra. One should remember to take shoes with a good grip and a raincoat as well. The full walk is appropriate for experienced trekkers with some past trekking experience. Samrad, the base village of the trek is just about 23 km away from Bhandardara; taking about an hour to reach.
One can reach through a private vehicle has to be hired from Igatpuri, Kasara or Bhandardara to reach the base village of Samrad. It takes hardly 30 minutes to reach the Reverse Waterfall from the base Village of Bari. The full trek takes about 8 hours to complete.
Backpack: Ideal size should be 20-45 liters.
Prerequisites
Shoes: Running shoes are most recommended.
Camera: A 360* camera, for capturing the scenic beauty and people also prefer Binoculars (one within a large group is enough).
2L Water Bottle per person.
Sweatshirts or winter wears during winters.
Torch/ Headlamp.
Dry Snacks.
Cap and sunglasses
Raincoat for monsoons
Power Banks.
Hiking pole.
If people are camping, they will also additionally need the following:
A camping kit.
Tent.
Sleeping bags.
Tent light.
Pee buddy for women.
Salman Zafar is a serial entrepreneur, digital marketer, writer and publisher. He is the Founder of Techie Loops