10 Saltwater Kayak Fishing Tips for Beginners to Land More Fish
Wondering how to catch saltwater fish in a kayak? This may sound like a weird idea considering the amount of space you will need to store your catch. However, saltwater kayak fishing is a very popular sport in many regions.
As you can guess, there is of course more than one type of fishing kayak out there and more than one way to go kayak fishing. Here comes our beginner's guide so you can make your very first saltwater kayak fishing trip a success.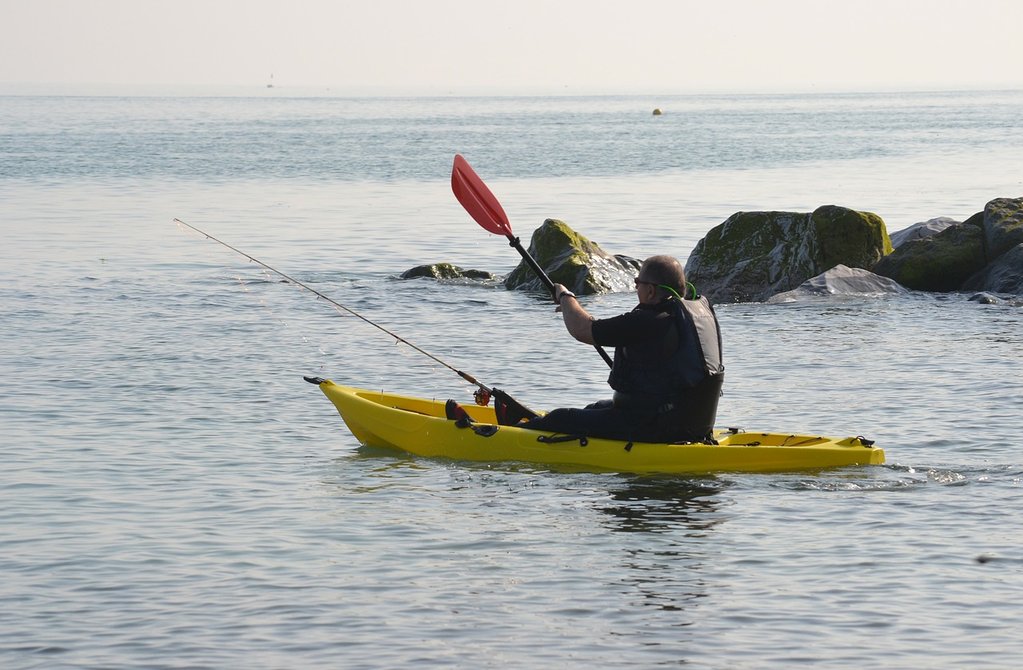 Saltwater Kayak Fishing Tips for Beginners
Pick out the right kayak for you
A quality kayak may set you back over 3000 dollars. You will also get one off the shelf that has already been modified specifically for fishing.
The alternative is to buy a standard kayak and customize it according to your needs. If you choose to go down this path, use the A4 marine grade corrosion-resistant stainless steel fittings. This might cost twice when compared to the A2 grade but this will be worth the effort in the long run.
You may also choose from either a sit-on or sit-in-kayak type. The sit-on-top is preferred by most since you can easily carry your gear on it and climb on/off the boat if you're not an expert kayaker.
Also pick a bright-colored kayak that is visible from far away. Yellow, red and orange are exactly what you need but avoid blue and grey.
A good quality paddle will go a long way
You don't have to buy the nicest kayak at the beginning. You can upgrade your kayak eventually and keep using the same old paddle. A good quality lightweight paddle will be more efficient, help speed up quickly and be less stressful for your arms while you plough through strong tides.
A cheap paddle may cause your hands to blister, so it's always wise to buy the best one you can afford.
3. The protective measures
If you fish near mangroves or lagoons, be sure to pack on insect repellents. Mosquitoes
Use a waterproof high SPF sunscreen, put on polarized sunglasses and a sun protection hat to protect yourself from sunburns.
Never miss to bring your life jacket
Always have your life jacket on while kayaking, especially if you are hitting the ocean. There are a lot of comfortable options to choose from.
Study the weather broadcast
Always, update yourself on the weather before kayaking. Keep the VHF radio on to get the latest weather updates.
Having rain gear onboard will come handy if you get caught on some random rain.
Don't forget to stay hydrated
Pack plenty of fluids and keep yourself hydrated especially on a hot day. You will tire yourself paddling against the strong winds. You will not regret keeping extra water with you.
Navigation
Set up a fish finder and GPS unit while going off-shore. When you lose your bearings in the ocean, it becomes an obvious safety issue. If a fish finder goes beyond your budget use a GPS app on your smartphone which will help your navigation. You can also check here the best fish finders on the market for you to be fully equipped.
Carry floating Storage Containers
It is almost certain that you  will fall off your kayak countless times. And along with you all your gears will too. It's best to keep your gears in a plastic or floating container or bag while on the water. Also tie them to your kayak to avoid them from floating away.
Equip yourself with the correct Fish Handling Gear
A large catfish may easily catch you off guard if you do not have the essential tools to handle them. Even if you somehow manage to tame a big fish by some miracle, you may find it difficult to pull it onboard. It's better to be safe than sorry – don't forget to pack the essential tools
Bring an anchor
An anchor will help to keep your kayak steady and avoid getting pulled by large fish species. We all know a steady boat equals a lot of fish landed. An anchor should be set up along with the fishing gear. It will be easier to deploy and  retrieve from a proper setup. A makeshift anchor made using a strong rope and plastic coated hand weights will also help to hold your ground.
Waterproof camera
Don't miss the chance to show off your trophy fish to the world. Carry a waterproof camera preferably remote controlled that can be mounted to your boat.
Have a plan
Learn how the tides affect your kayak and fishing before going off on an adventure. Not only is it important from a fish catching point of view but also from a safety angle. Plan a route and inform family or friends about it, also the estimated time of your return. In the beginning it's best not to go alone until you gather some experience.
Salman Zafar is a serial entrepreneur, digital marketer, writer and publisher. He is the Founder of Techie Loops