Attractive and Elegant Tumblr Themes To Optimize Your Website Layout
One of the world's most recognized social media networks and microblogging services that allows its users to share all types of content is Tumblr. It will take just a few moments for you to start your Tumblr community. Not only this, all the Tumblr owners will be in complete control of how their blog appears and looks to the entire world. Tumblr blog is effective in displaying your overall personality. It also gives an insight into what you would like to achieve by way of your content.
To adjust your custom themes, you can edit raw HTML or opt for any of the Tumblr themes to plan the appearance of your blog. In these times, nearly everyone is familiar with Tumblr's existence, but people are still not keen on using the platform. Some people think of Tumblr as a blogging platform. In reality, it is a network of content writers who share something worthy with other people.
Those who wish to share their creative ideas and thoughts within the scope of their community also found Tumblr good. It would help if you had an influential Tumblr blog to achieve success in this. Here are a few elegant Tumblr themes to optimize your site layout.
Attractive Tumblr Themes
1. Indy
If you are searching for something that will instantly grab people's attention, then Indy is the one for you. Your blog will exhibit a clean and straightforward look with the help of Indy. You can easily set up this for yourself as it has a beautiful layout. Not only this, you can run this as long as you want.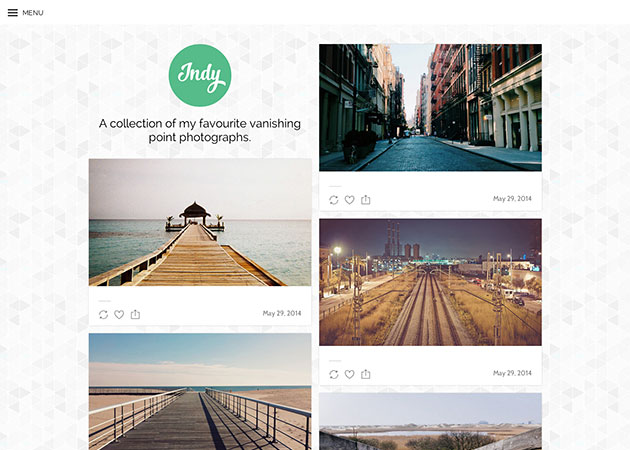 The best thing about Indy is that it helps you stand apart from the crowd and is responsive and mobile-friendly. You can make your content pop and shine online by opting Indy theme for your blog. It is effortless to display your works, skills, and other things in a matchless way by choosing Indy.
2. Salvia
Salvia helps you with the online space and allows you to promote it irrespective of how creative you are as an individual. It is a tool that makes your dreams come to reality, no matter if you are a photographer, writer, artist, or web designer. You can share your occupation with the world by opting for Salvia. The best feature which you will find in salvia is the option of a hidden menu. There are links and comfy navigation.
Moreover, it helps your page look minimal. There is an excellent option of fonts available on salvia for you for better readability, color customization, and several other features. You can alter anything according to your taste.
3. Wicked
This theme will give a super minimalist look to your blog, which will nearly impress everyone. To make sure your creation appears smoothly on smartphones, tablets, and desktop computers, it is mobile-ready. You can even use it for search engine optimization and fast loading speed. You can fully edit the web design of wicked at your convenience.
The process of using it is also simple. You can develop a spectacular layout that will display your content uniquely and engagingly with barely any time and effort. Besides this, if you are looking for something distraction-free, then wicked is the one for you.
4. Tumblr Official
You can tailor official to your liking easily with a fantastic set of customizations. The best thing about this is that you do not need any experience for this. Here you can even alter fonts, header images, and colors. You can present your content beautifully with the help of a minimal yet vibrant layout. To add a personal touch to it, you can include an avatar in it.
5. Basic
If you are also looking to start an afresh blog but wondering how to do it, this is for you. Essential is one of the free Tumblr themes for you to work with your blog. As the name suggests, there will be a lot of simplicity over here. This theme supports all post types, be it texts, images, videos, and tunes. With the usage of this theme, you have access to image zoom, a good deal of fonts, localization, and colors to choose from. For the best experience, please have a look at its stunning features then.
6. Persona
The name persona speaks for itself and needs no introduction. This type of theme best fits the personal blog, but some people also tend to use it for business blogs. This is so because it adapts quickly. No matter what you do, it will for sure look stunning and professional. There are lots of social media icons, fonts, and plugins to choose from. This paves the way for your first solid impression by adding up five header pictures to your page. Without thinking much about it, start your blogging career with a persona now.
7. Ten toes
Ten toes are the best Tumblr theme for you if you adore beauty, simplicity, and sophistication. You can use nearly every device ranging from desktop to mobile phones. Ten toes always work flawlessly, even when it comes to modern web browsers.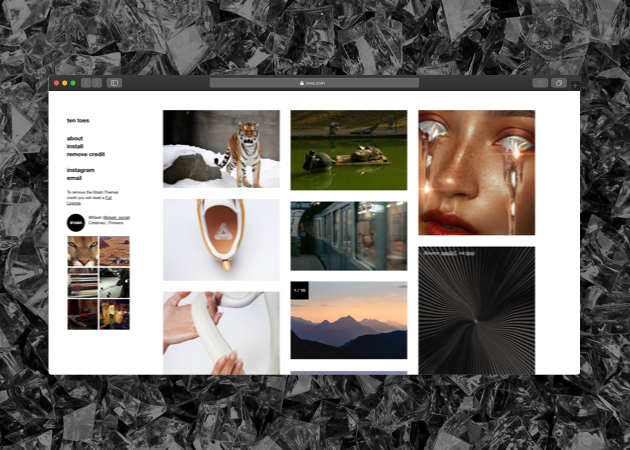 If you work with pictures, then there cannot be any better tool than ten toes. Its sole aim is to showcase your visuals in the best possible manner. At the same time, it does not limit your ability and works for all post types.
Conclusion
While blogging, choose these elegant Tumblr themes for you as this will make you stand apart from the crowd and help you progress.
Naman Modi is a Professional Blogger, SEO Expert & Guest blogger at https://www.namanmodi.com/ He is an Award-Winning Freelancer & Web Entrepreneur helping new entrepreneur's launches their first successful online business.