Temple Castle Run: Review and Gameplay
Imagine yourself put on a map with a mission to just run, dodging and avoiding obstacles on the way. That's Temple Castle Run for you.
This popular megahit game with over 500,000 downloads stands as one of the best running games. It is a trendy game and addictive for all age groups alike. With amazingly thrilling graphics, apt music, and a complex map, players stay hooked to it for hours.
Although the game is easily available on PlayStore and AppStore, people who prefer playing on PC might not know how to install it on their device.
Therefore, in this write-up, we talk about Temple Castle Run in detail and will also discuss how you can easily use it on a PC.
Game Features
Temple Castle Run has some unique features that draw attention from people who like playing games of the same style. Although there are many similar games available online, most of them have monotonous maps, and people lose interest after a time.
However, Temple Castle Run offers much more than just running and jumping over or sliding through some rocks and bridges. This is the reason why it is still very much in trend even after years of release.
Gameplay
The gameplay is simple in terms of description. There is a map, and your character has to run through it. The game begins once you tap the start button. Afterward, the character automatically starts running.
There are no controls to keep it going. However, there are several obstacles placed on the way that you need to save yourself from. Ranging from rocks to trees, trench, fire, there is a lot that you need to keep an eye out for.
If you are playing on the phone, you can control it by tilting and shaking your device. However, you would be required to swipe the screen in case you need to jump over or under a bridge.
Obstacles
The obstacles in the game are quite different. You need to protect yourself from hitting them in order to successfully make it to the end. Dragons will be lurking around, ready to eat you alive.
You would also find massive rocks on the way as you try to avoid them when running at a pretty high speed. Fire, deep trench, and monsters would keep popping, and you'd have to make sure not to hit any of them.
One thing about the game is that no matter how many coins you collect or how far you make it on the map, missing one obstacle will send you back to square one.
This means that the game requires sharp focus and great hand-eye coordination, which is again why people find it extremely addictive.
Graphics and Color Grading
The graphics and color grading in the Temple Castle Run will leave you in awe of the developers. Switching between the dark and light themes and the high resolution in the gameplay grab the attention.
The ancient castle and temple, narrow bridges, spiders, insects, and large trees; all add to the vibe. In addition, the music is an amalgamation of horror, mystery, and thrill. All of this ensures that players never get bored of the game.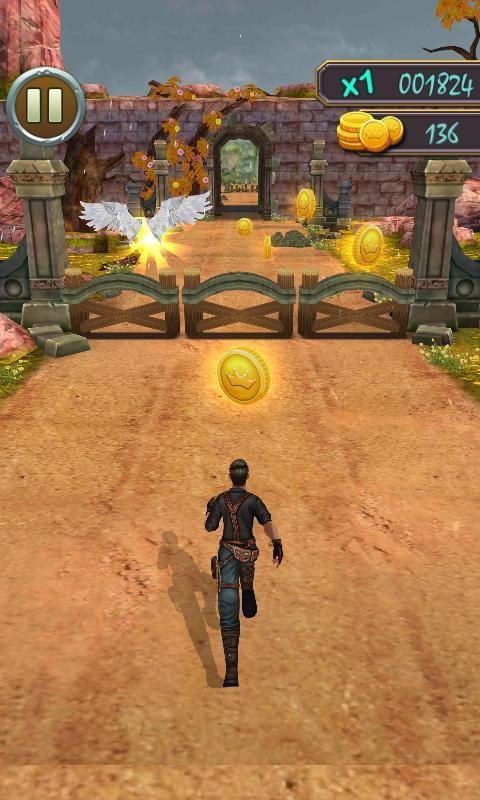 Difficulty Levels
You definitely don't want to face the same threats and maps again and again. When playing Temple Castle Run, you'll face varying difficulty levels. These will keep on rising on the way to keep the thrill and challenging aspect intact.
How to Play on PC?
Temple Castle Run is a mobile game. This implies that you cannot install it directly on your computer. Since it requires Android, you need software that simulates an Android on your PC.
These are called Android emulators.
What you have to do is simple. You need to look up a high-rated emulator online and download it. We would recommend Bluestacks as it is one of the best emulators for PC.
Then, search for a Temple Run Castle on Google Play Store in the emulator. You can also download the application by downloading the APK file. Then, open the game with the emulator and install it.
Wrap Up
Temple Castle Run is a wonderful game to escape your boredom. The gameplay is challenging and will definitely keep you busy frequently. So download it now and start playing on your PC!
Salman Zafar is a serial entrepreneur, digital marketer, writer and publisher. He is the Founder of Techie Loops