8 Tips to Process Large Volumes of Photos Quickly and Cost-Effectively
As a professional photographer, you are bound to deal with large volumes of images. Whether it is event photography like weddings, baby showers, real estate property catalogs, fashion photography, or product photography. To remain competitive in the industry, a good turnaround time is important for client satisfaction. Moreover, controlling your costs is also crucial for growth.
Controlling these two factors – time and cost- is challenging for every professional photographer. To help your photo studio with this daunting task, we have compiled a list of tips that will come in handy for processing large photography projects.
Ways To Save Time and Cost in Image Processing
The following tips can be useful for professional photographers in cost-effective editing along with better time management: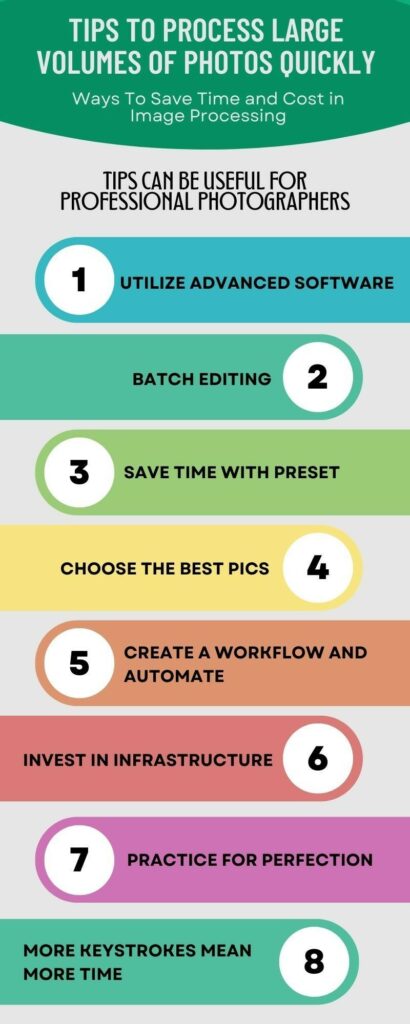 1. Utilize Advanced Software
The first rule for quick and cost-effective editing is to use the best available software that can be used for any type of photography project. Photo editing companies love software like Photoshop and Lightroom for their advanced features and easy-to-use functionalities. As a professional, you can learn the basics of this software through tutorials. Plus, similar to the above tools, your editing software should consist of functions that support automation.
2. Batch Editing
Saving time spent in editing is crucial as a photography professional. If you are dealing with projects with many photos captured in similar lighting and property setup, using batch editing will save time. Batch editing allows you to set up similar editing technicalities for a group/batch of photos. So instead of reworking similar photos one by one, you can select the editing you want and apply it to the whole batch. Moreover, this tool also helps you apply filters in bulk.
3. Save Time with Preset
The tool for choosing your editing functions in advance and then applying them to required photographs can be called a preset. Most editing software offers this function to ease up the workload on professionals. Like batch editing, this also works best when applied to similarly shot images. Preset is considered one of the best techniques to save time.
4. Choose The Best Pics
Photo culling is another crucial aspect of professional photography. It's tough to remove the bad shots from a project, as you have captured them, it's hard to accept their faults. The loophole is wasting time on bad shots, trying to edit them for perfection. In such a situation, the selective culling rule helps. Once you are ready with the raw images, select and remove bad shots that need more time for editing, along with pics that have gone bad beyond editing. Once you have the best in the slot, begin the editing process.
5. Create a Workflow and Automate
Creating a workflow is important to control the time and cost of processing large volumes of photos. It is even better if you can automate the process wherever possible. Capture images, store, rename a copy, review, cull, batch edit, preset, audit, and deliver. A set workflow with automation will help you speed up the process, deliver within the deadline and save costs as well.
6. Invest in Infrastructure
Unless you are outsourcing to professional photo editing services, an advanced infrastructure will save you time and costs in the long run. Photograph editing is a detailed job that needs good hardware setup, upgraded software, and basic utilities. For instance, a fast and upgraded computer will be able to handle any editing software. You can also create a moving workstation that will improve your business prospects. All-in-all, you are required to invest capital in the resources initially.
7. Practice for Perfection
In every photography batch, a few snaps come out as amazing captures as they don't need much editing. A few basic processing works can be handled by presets. You need to find the poor shots and experiment with lighting, background, exposures, and more.
8. More Keystrokes Mean More Time
Particularly while handling large volumes of photos, the time invested in keystrokes affects your overall time management. Limiting your key impressions improves your efficiency. You can work with short-cut keys, and the software guides can help you learn useful tips on the short-hand operation. Remember, fulfilling orders on time is a challenge in the photography industry.
How to Edit Fast
Some of the following unconventional tips will help you save more time on editing:
1. Use Editing Automations
It is important to repeat this step to remind you of its usefulness in editing huge volumes of photos. Photography editing services smartly integrate presets and batch editing functions to bring automation to the image post-production process. Batch editing can also help you add a personalized touch to the respective project.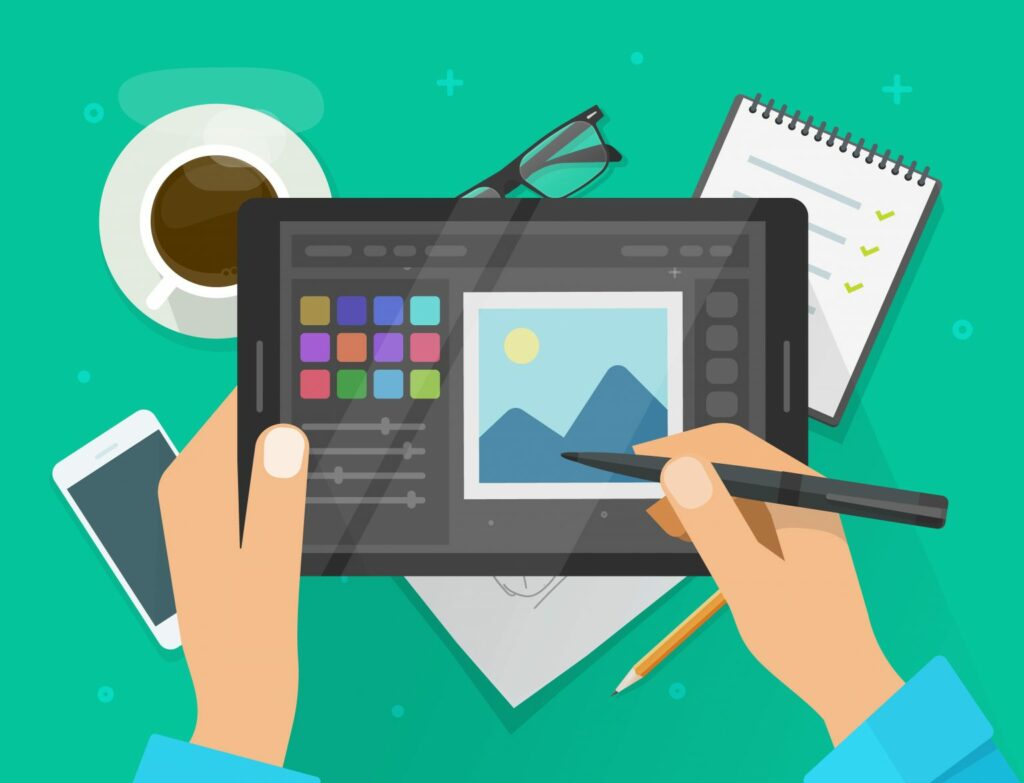 2. Plan The Project's Strategy
Make a strategy as per the requirement of the project. Set deadlines. Capture images in the best possible quality keeping in mind the editing needs. Once you have the raw images, divide the photo processing process into steps. Break your images according to batches and edit one image of each of them, setting presets along. Apply your batch editing to the whole set then move on to the next. Also plan your editing requirements like contrast, lighting, and other effects, to be applied for speeding up the process.
3. Work on The Go
You can create a kit of all essential tools and a laptop equipped with advanced software. This will help you set up a mobile studio, saving time lost in commuting while on projects. It will be good to utilize the new technology that helps in the setup of a moving editing shop. It also builds your professional image, getting you more business in the long run. Working on the go is cost-effective as it reduces your dependence on supporting staff while you are shooting projects.
4. Learn From Peers
Try to adapt to how other professionals save their time and costs. You can also learn how professional editors work on large volumes of image processing. Every successful photographer has a unique style, but at the same time, experts are setting trends in the profession. Talking to them and learning and growing with the flow helps a lot.
5. Consult with the Client
One way to approach the project is by creating samples and getting them approved. It often eats a lot of time. Instead, you can discuss the project with clients beforehand and be sure of their image editing needs. A conclusive brainstorming can save your time and resources on editing and approvals.
Conclusion
If you can streamline the editing process of a large volume of photographs, you will be able to control the costs and time involved. Successful photographers are supported by a committed and professional team of editing experts but having such a team is not feasible or affordable for everyone. Engaging professional image editing services is an option that offers more savings and efficient time management. It helps you focus on the creative part and develop your business on multiple fronts simultaneously.
Kathy Butters is a content strategist currently working at PhotozWorld, a leading photo editing company providing dependable and affordable services. As a creative writer and a photography enthusiast for more than 10 years, she loves to share her passion for image editing with other professionals.