5 Essential Tips to Find the Best Literary Agent
There are millions of writers worldwide, and more are enjoying the field every day. Some aim to get recognition, some want fame, and the list of reasons goes on. In any case, every writer shares one ultimate goal –to get their work published.
Everyone in the literary field can relate to many things, whether an inexperienced writer or a seasoned professional. When you have a literary agent by your side, the chances of your work being published increase significantly.
Literary agents are experts in the publishing industry. Their knowledge and deep understanding of the field can help connect their clients with relevant publishing houses. They can help you secure the best book deals, get fair contacts, and protect your rights.
All these benefits sound amazing, but not every literary agent can give you them. Only experienced and confident literary agents can meet your expectations. If you fall for an inexperienced agent's claims, publishing your book can become lengthy and cumbersome.
If you do not already have a literary agent, here are a few essential tips for finding the best among thousands of aspirants.
1. Look at the Track Record
After you figure out what is a literary agent, it's time to look into the services they provide. Looking back at their journey, many established writers can admit that they might not have been recognized without the efforts of their literary agent.
After all, there is so much competition in the field, and little aspects can make or break your dream.
Every writer looks forward to being published by renowned publication houses. The truth is that without the in-depth knowledge of a literary agent, you do not stand a lot of chances. Yet, as discussed, you cannot rely on any literary agent to lead you to success.
The first thing you might want to note is their client and publisher list to see their track record. See if the publishers they get in touch with are suitable according to your needs and standards. Also, keep an eye on what their clients usually demand to see if your needs fall in the same category.
The most important thing you may want to note is the success rate of your potential literary agent. You can feel satisfied and move to the next step if you see evident success accompanied by good reviews and testimonials.
2. Seek the Confidence
Any job that requires a lot of communication needs someone confident to handle it. When a literary agent is confident, they can make you feel confident and respected. Therefore, you can expect them to carry the same conduct to the publication house.
It feels great when a literary agent makes you feel like a partner, not just a client. When they treat you equally, you can expect them to keep you informed at each stage of the process. They will not leave you in the dark, guessing about the possibilities by yourself.
When they have good communication skills and reflect confidence, the chances of them charming the publication houses also increase. Therefore, you can feel more confident with a literary agent that knows how to pave your path to success with confidence.
3. Seek Enthusiasm
No one can compete with someone who is enthusiastic about their job. When someone loves their work and does it for more than money, their chances of success and satisfaction increase significantly. Therefore, every author needs an enthusiastic literary agent by their side.
An enthusiastic literary agent that shows genuine interest in your work can be sympathetic to your dreams. Since they know that satisfactory services today can lead to a long-term and mutually beneficial relationship, they understand and get on board with your vision.
Your literary agent will handle your negotiations, legal matters, and contracts. If they are enthusiastic, always say yes to their services and give them respect, trust, and space to work with. Believe that your work and their enthusiasm can create something bigger.
However, you may have doubts since there is no quantitative measure for enthusiasm. In such a case, you can try working with a new agent. New agents are concerned about their track record and work enthusiastically for mutual success.
4. Create Personalized Query Letters
Your literary agent is not the only one who has to make things easier for you. You can also make it easier for potential literary agents by writing personalized query letters. Your query letter should start with telling the potential literary agent why you think they are the right person for your job.
Do not take it as a long and hard assignment. Instead, just read their profile and figure out their expertise. After you find the relation between their profile and your work, write a precise draft telling them how this mutual deal can benefit both of you.
When your work matches their interest, it is most likely that they will get back to you soon. The best practice is sending your query letters in batches so that you have a bigger pool of candidates. The more people you meet, the better candidate may match your needs.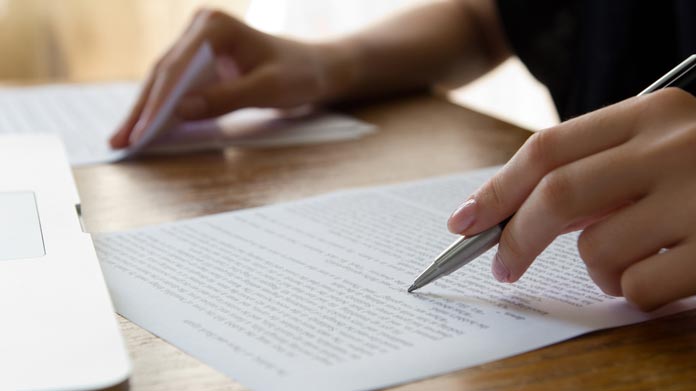 However, ensure that you stay careful about not burning out by getting too many responses at a time. Instead, make batches of 10-15 candidates at a time so that you can deal with the responses more efficiently.
5. Do Not Forget to Follow Up
Many authors get lucky and hear back from potential literary agents. However, if that is not the case for you, do not worry. Silence does not always mean that your proposal has been rejected.
Some may think asking the potential literary agent about your query letter can seem desperate and pushy. Literary agents deal with bulks of information every day. It is possible that they missed or overlooked your email in haste.
Instead of sitting and assuming that your work is not up to the mark, it is always better to get back on top in their inbox. There is a high chance that they will write back to you. Even if it's a no, you will know that for sure.
As far as being pushy is concerned, no one minds a short and polite reminder email. If someone chooses to reply rudely, take this moment to be grateful that you do not have to be stuck with them in the long run. You will find someone better to carry your project to the right publisher.
Salman Zafar is a serial entrepreneur, digital marketer, writer and publisher. He is the Founder of Techie Loops