Millennials and Generation Z Will Dominate the Blockchain Market
Millennials born between 1981 and 1996 largely swear by technology and want everything to happen digitally. They are an impatient lot who desire to have everything at their fingertips — right from news to booking vacations. They seek intuitive user interfaces, multi-functional and savvy-looking apps.
On the other hand, Generation Z (people born between 1997 and 2015) is ahead of the Millennial generation. Both in terms of population and their affinity for all things digital. Although most of them don't have jobs and savings, they don't shy away from investing in crypto.
As Noelle Acheson of CoinDesk puts it:
"They are also digital natives and, when they are old enough, will see nothing strange in allocating their savings to assets via swipes on their phones (or movements of their headsets or digital glasses, who knows). It is unlikely they will find the fragmented nature of crypto markets alarming, and the creativity of many crypto-asset products on the market today could appeal to their strong sense of individualism."
Millennials and Generation Z were the first to catch on to the rising cryptocurrency trend, and currently, they form the most dominant demography of crypto users. Let's look at the numbers that show this.
Millennials and Generation Z Dominate the Cryptocurrency and Blockchain Market Both in Sentiment and Adoption
The deVere Group, one of the world's largest independent financial advisory and fintech organizations, in its study in December last year, found that 67% of the responding Millenials prefer investing in bitcoin and other crypto-assets over gold.
Something similar came up in another survey that the crypto venture capital firm Blockchain Capital conducted in partnership with The Harris Poll in December 2020.
Belief in Technology
Out of 2000 American adults, 18-44 years olds seemed to consider Bitcoin and other cryptocurrency systems as disruptive forces capable of redefining existing financial models. The blockchain technology market has limitless potential, is what they collectively opined.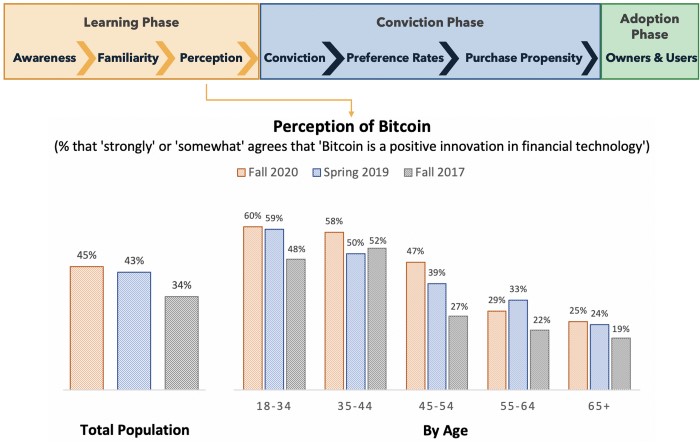 "60% of those aged 18–34 (up 12 percentage points from Fall 2017) and 58% of those aged 35–44 'strongly' or 'somewhat' agree that 'Bitcoin is a positive innovation in financial technology — compared to just 33% of those ages 45+."
Conviction in Bitcoin's Survival
56% of the participants aged 18–34 and 57% of those aged 35–44 showed firm conviction in Bitcoin finding widespread adoption amongst most of the country's population.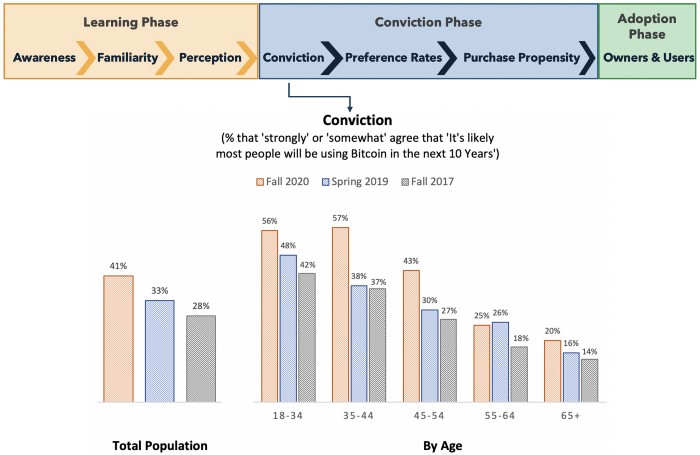 Out of Bitcoin and Euro, 58% of folks in the 18-34 age bracket and 46% in the 35-44 group said Bitcoin has a higher chance of surviving longer.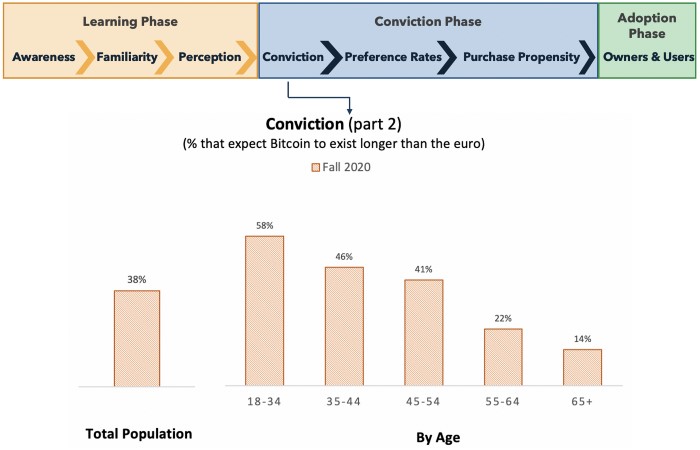 Investment Preference
Also, amongst individuals aged 18-34, 38% said they would invest in crypto/bitcoin rather than government bonds. 35% showed a preference for bitcoin over stocks. 33% preferred bitcoin to real estate, with 31% showing an inclination to buy bitcoin than gold.
In the 35–44 age group, 36% chose Bitcoin over government bonds as their investment preference. Between bitcoin and stocks, 31% chose the former. 25% preferred buying bitcoin than a piece of real estate property. Lastly, 26% said they would invest in crypto coins or bitcoin over gold.
Overall the survey results portrayed a stronger desire amongst the youth to enter investment positions in bitcoin. 55% of respondents in the 18–34 age group said they plan to buy bitcoin in the next five years — compared to 26% of those aged 35 and above.
There is no doubt that Millennials and Generation Z see quite some opportunity in the rapidly expanding blockchain market, and hence, dominate the ecosystem when it comes to belief, preference, usage, and adoption. All the more because of the ongoing money printing and ballooning inflation across all major economies globally, the cryptocurrency asset class will continue to provide the young and driven a solid way out of this depressing financial scenario.
Not Just Crypto, Young Guns Also Desire Feature-rich and Intuitive User Interfaces to Utilize Their Holdings
With cryptocurrency, millennials have found a unique and rewarding asset class to grow their wealth exponentially. However, while this has happened, digital assets found resounding popularity amongst young investors, adoption has taken a back seat. Why? Because of storage, usage, and accessibility roadblocks.
Since it is difficult for Millennials and the younger generation to accept anything less than perfect, cryptocurrency products/services need to provide a near-perfect user experience to make it super easy to invest in crypto.
Solutions need to solve complexities and unify different markets. Besides buying and holding bitcoin or other cryptocurrencies, crypto asset management should not be challenging. Crypto wallets like Eidoo can prove helpful in this regard.
Eidoo can simplify the crypto usage experience for Millennials and GenZ by eliminating unwanted issues and providing a top-notch and unmatched user experience. It is much more than storage for holding bitcoin or any other cryptocurrency.
The wallet has an extensive suite of tools to enable users to action their preferred cryptocurrency investment strategies in-app:
Multicurrency storage
ERC-20 swap
Debit Card
Most famous DeFi protocol integrated
Integration with pNetwork and its native token PNT
Why Stress on Improving User Interface So Much?
Crypto wallets (platforms with DeFi options as above) will mainly come in very handy to capitalize on the DeFi trend. Why? Because most cryptocurrency market participants in the 18 — 40 age range are tech-savvy and are always on the lookout for tools to maximize their investment value. A lucid and seamless interface feels blissful and goes a long way in amplifying the user experience.
A good user interface plays a significant role in attracting uninitiated individuals into the cryptocurrency and blockchain market.
Intuitive interfaces anticipate the user's preferences. They then create a responsive environment that is sensitive to those preferences and fulfills them appropriately. It's not just about aesthetics but efficiency, and accessibility of an application, in this case, a cryptocurrency asset management platform.
It is apparent that Millennials and Generation Z today will become the sworn evangelists of crypto and will further propagate the message of the blockchain market's limitless potential and will dominate it.
But for that to happen, crypto asset management applications will need to perfect the art of avant-garde "experience design." As this generation has a sour stomach for mediocrity and mediocre applications that provide insipid and half-hearted user experiences will fail to gain any visible traction.
Salman Zafar is a serial entrepreneur, digital marketer, writer and publisher. He is the Founder of Techie Loops