Best Screen Recorder For YouTubers
Do you want to record your screen or gameplay in order to make video tutorials or game videos? Or maybe you just want to use your camera to record videos? Then you'll need a screen recorder like iTop Screen Recorder, one of the most popular screen capture apps for YouTubers.
Recording Modes
There are three recording modes in iTop Screen Recorder for different recording tasks.
1. Screen Recording Mode
You can use this mode to record the full screen, a selected section of your screen, or a predefined 4:3 or 16:9 ratio in the screen recording mode. It also remembers the last screen size you used and allows you to record the size again.  You can even record the camera as well as the voices.
2. Audio Recording Mode
You can record simply the speaker and microphone voice in this mode, which is commonly used to record an online call or an audio tutorial. You can save the audio to MP3, AAC, AC3, etc formats with a click.
3. Gaming Recording Mode
With the GPU acceleration technology, you can record 2D/3D gameplay footage at 90 frames per second with minimal lag. You may simultaneously record the webcam, speaker, and microphone.
In any of these modes, you can also take high-quality screenshots in BMP, PNG, and JPG formats.
Key Features
1. HD Video Recording
iTop Screen Recorder can record from 12 to 90 frames per second and supports a variety of codecs. You have four resolution settings to select from, including a custom configuration that allows you to record a 4K video.
As a result, iTop Screen Recorder should be able to meet the needs of the large majority of YouTubers. You'll be able to use the higher quality settings if your hardware is good enough. If not, you'll be able to easily change your settings until you feel like you've reached a satisfactory balance.
2. Friendly Interface
The UI of iTop Screen Recorder is pretty simple. You can easily change from one mode to the next, each with its own set of options.
While Screen Recording Mode requires very little setup, Gaming Recording Mode may require a bit more time in the settings. But don't worry: its easy-to-use interface will take you through the process of recording everything.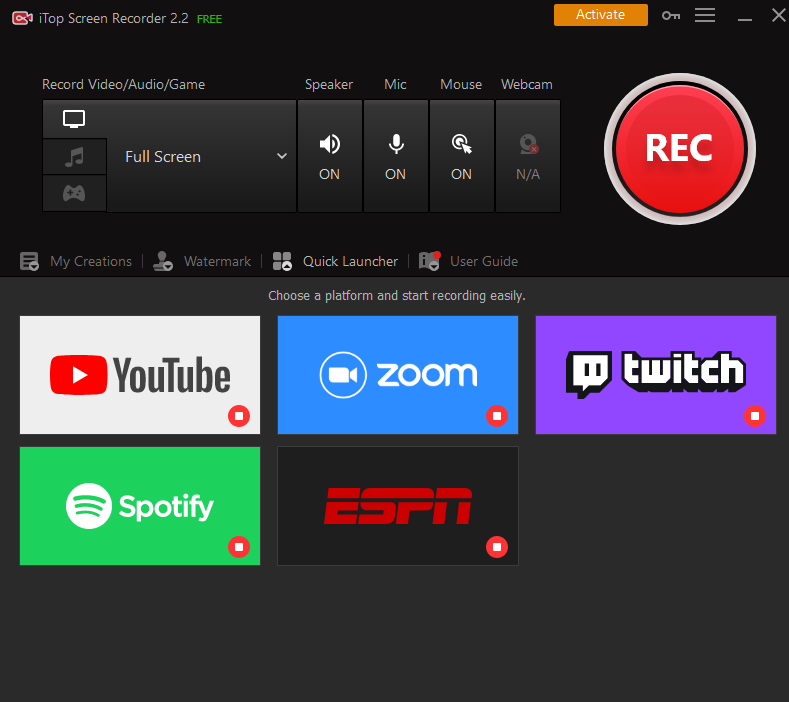 3. System Requirements
iTop Screen Recorder, thankfully, has very low system requirements. The bad news is that this software will not work on a Mac or Linux computer. The following are the minimum requirements:
Windows 10/8.1/8/7/XP/Vista/XP/Vista.
A processor with a clock speed of 1 GHz or higher.
2 GB RAM.
1000MB Free hard drive space.
1024*768 and higher resolution.
FAQs
Q: Is iTop Screen Recorder available for free?
A: Yes, it's free to download and use.  You can even record and save videos with no time or video size restrictions. However, if you don't buy a license, all of your videos will have the iTop Screen Recorder watermark and you won't be able to use the GPU accelerated recording, scheduled recording, and other advanced features.
Q: Can I use iTop Screen Recorder to add a webcam overlay to my videos?
A: Yes, you can do it by simply turning on the Webcam in the recording UI and you can set which screen part to overlay the webcam.
Salman Zafar is a serial entrepreneur, digital marketer, writer and publisher. He is the Founder of Techie Loops