5 Natural Deodorizing Solutions for a Smelly Room
There's nothing more disappointing than stepping into a room and being repulsed by a bad smell. Whether it's the smell of dirty laundry or old food, sometimes you just need to deodorize your house.
While it can be tempting to freshen your house up with store-bought air fresheners, that might not be the best solution. Studies have shown that over 20% of the US population has reported adverse health effects because of air fresheners. Luckily, while typical air fresheners might not be worth the health risk, the folks at TurboTenant have outlined five natural remedies to deodorize a room below.
Carpet Refresher
Whether you spilled soup or your new puppy had another accident, our natural carpet refresher can come in handy. To make this solution, you'll need 1 tablespoon of ground cinnamon, 1 cup of baking soda, and 1 shaker container. Mix the ingredients together in your shaker, sprinkle the solution into the carpet, and let it sit for an hour. Afterward, vacuum it up.
To make your room smell even better, just add some ground cinnamon to the mix. This is a natural way to add some fragrance to your house without the use of harmful chemicals. This solution is perfect if you're prepping a house for visits from potential tenants.
2. Natural Closet Air Freshener
Oftentimes, closets result in nasty odors. Stale smells can form from dirty laundry or dusty clothes. To deodorize your closet, our natural closet air freshener will do the trick. For this recipe, you'll need small fabric sachets, some ribbon, dried herbs or flowers, and essential oils.
After you pick out your dried herbs or flowers of choice, use them to fill up your fabric sachets. Tie the sachets off with ribbon and add a couple of drops of your favorite essential oils. Keep the sachets in your closet and the pleasant aroma will fill the air naturally.
3. Room Spray Solution
Our room spray recipe makes for a versatile solution that can freshen up any room. All you need is a couple of drops of your favorite smelling essential oils, a tablespoon of baking soda, and some distilled water. Mix all of your ingredients together and add them to a spray bottle and you're ready to go.
If you want to add some holiday cheer to your cleaning solution, we highly recommend using peppermint or cinnamon essential oils. You can even add some witch hazel to your solution for a longer-lasting smell.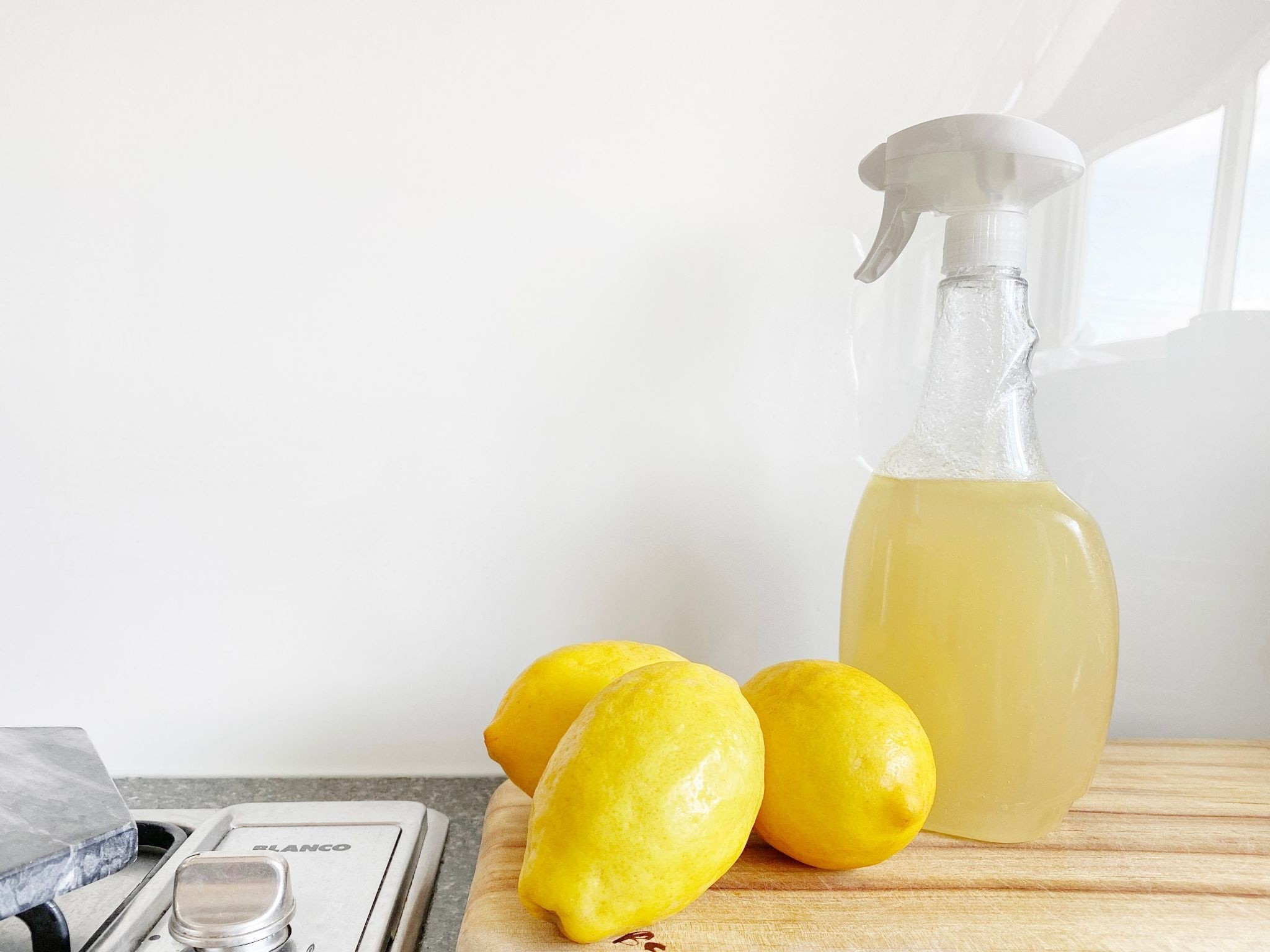 4. Fridge Deodorizer
Nasty fridge smells are some of the most persistent and repulsive smells around. To neutralize pesky odors from old foods, our fridge deodorizer is the perfect solution. For this cleaning recipe, all you need is 12 drops of essential oils, 1 cup of baking soda, and a jar.
Mix your essential oils with the baking soda in the jar, and place the jar in the fridge. The end-product will do a great job of absorbing lingering bad odors.
5. Simmer Pot Air Freshener
If you're looking to fill your house with a cozy fragrance, look no further than our simmer pot air freshener. All you need for this recipe is 2 cinnamon sticks, 1 sliced orange, 1 sliced lemon, 4 whole cloves, and 1 bay leaf. Add these ingredients to a pot or a slow cooker and fill it halfway with water and heat the mixture at a low temperature.
Once you have your pot or cooker to a simmer, it will naturally start to fill your house with a warm, pleasant aroma. Just add water if the water level gets too low, and you can let the air freshener do its trick for as long as you please.
Conclusion
To rid your house of unpleasant odors, natural remedies are a must. They fill your house with pleasant smells without the possibly harmful chemicals found in store-bought air fresheners. Now that you have the above recipes to deodorize a room, your house will be smelling better in no time.
Please include attribution to https://www.turbotenant.com/ with this graphic.
Salman Zafar is a serial entrepreneur, digital marketer, writer and publisher. He is the Founder of Techie Loops